Welcome to St. Francis of Assisi Middle School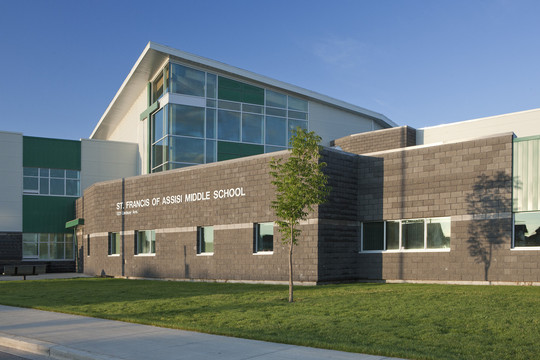 We welcome students of all faiths who desire a Catholic education.
"Start by doing what's necessary; then do what's impossible; and suddenly you are doing the impossible"
St. Francis of Assisi 
Early Dismissal every Monday
Just a reminder that on Mondays students will be dismissed at 2:20 p.m. as our staff will be engaged in Professional Development activities at that time.  
Public Service Announcement
Please see the letter from Alberta Health Services regarding a Whooping Cough outbreak declared in AHS Central Zone.
Red Deer & District SPCA
New Volunteer Opportunity
Youth Volunteer Club Assistant
Thursdays: 4:00 pm - 5:30 pm
Did you know that the Red Deer & District has started a Youth Volunteer Club? Young people who experience community involvement and philanthropy at an early age grow up with an ongoing sense of responsibility, and we have a very strong commitment to engaging children in Red Deer at the SPCA. We feel that Humane Education is a process that emphasizes to children the need to be compassionate and respectful to all people, animals, and the environment.
Kids from 9-13 come in for the Youth Volunteer Club every Thursday from 4 - 5:30 pm. In addition to games and presentations, the kids also get some hands-on volunteer time with the animals and the operations at the facility. They spend time with the dogs and cats, read to our pets one-on-one, learn about pet safety and cleanliness and even help with laundry. We are giving our future leaders the skills to be engaged in their community as well as all of the skills to become responsible pet owners.
Our Youth Volunteer Club has been a great success and we need your help to keep it growing!
Our young volunteers need supervision at all times, and we would love for you to come spend time with us and the future volunteers of tomorrow. If you can join us on Thursday nights please let us know and we will work with you to develop a schedule that best suits your availability.
For more information about either children joining the Youth Volunteer Club or if you want to join us as an assistant please email Kim Barlow or call 403-342-7722 x 211.
Thank you for your support!
Sincerely,
Kim Barlow
Volunteer Coordinator
Red Deer & District SPCA
Ski & Snowboard Club 2015
 The 2015 Ski & Snowboard Club will be running again in the New Year.  See the letter below  
Recent School News